Love Steampunk? Then You Will Love The Steam Tower™ Slot Game!
If you already know what steampunk entails, then there is yet another pleasant surprise for you; the Steam Tower™ slot game! In fact it is just what the doctor ordered for steampunk lovers and it certainly comes with extra features that will make you keep on playing. This game was inspired by the nineteenth century's industrial design and the Victorian era – its features can take you on yet another captivating journey. Here, you only have one mission even as you climb the towers; that of saving the princess so as to be rewarded generously. Here are facts that will make you love this Steam Tower™ slot game which has been launched by NetEnt in February 2015:
The gameplay is easy to grasp
If you are a fan of playing slot games, then it will be really easier to jump into the gameplay of the Steam Tower™ slot game. Your mission here is to save the princess and get a huge reward. Climbing the tower can be challenging, but that is what the plot of the story is meant for. And if it is your first time in tackling this slot game, then don't fret. The game comes with 'help' features that can make you start and play the game like a pro.
Plenty of extra features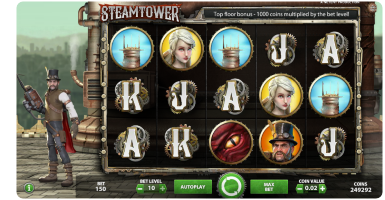 The game comes with extra features as you take on a very captivating journey. And you will enjoy the innovative features that the Steam Tower™ slot game comes. As you navigate through the quirky science fiction theme, you are also going to love the beautiful 3D graphics and modern elements in the sound.
This slot game is a 15-bet line, 3-row, 5-reel video slot game that offers extras such as the increasing multiplier and the free spins. Its uniqueness comes in the fact that the free spins are triggered by a Stacked Wild. When you get any wild symbols during the free spins, you will ascend each tower floor accordingly. As you reach the top floor, you will be enjoying a bonus from the x7 Multiplier.
Wide range of betting options
With the Steam Tower™ slot game, you have a wide range of betting options. The minimum betting level is 0.15 and it is a perfect option for the low bet players. The maximum bet is 150.00 and can suit the bigger players. You may also want to play with 10 bet levels or even seven different coin values.
Filled with fun
The software genius, NetEnt, really did a great job while creating this slot game. Riding on the back of a unique theme, this slot game comes with a good storyline as well as a catchy and appealing design so as to attract players. And with a stunning 97% RTP, it is difficult not to love playing this fun slot game!
So, why not find your way into one of the best online casinos that provide this NetEnt Touch game and get captivated on your steampunk journey today? Start playing Steam Tower™ slot game now!