A Mini Guide To Stacked Wilds Slots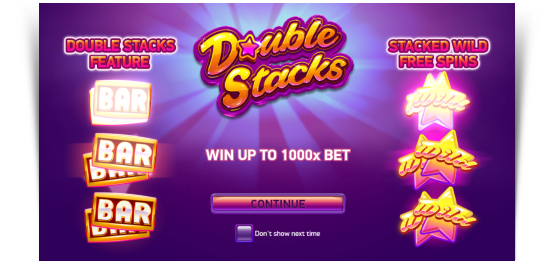 Stacked wilds are essentially an online slot game where a player has to heap a wild symbol that will cover a whole reel when it drops in order to win. You can find an example of this feature in Double Stacks of Netent. These symbols are normally in bands. A few slot games give a player the opportunity to stack wilds on specific reels while others only have wilds stacked on every reel.
Players prefer playing on slot games with a possibility to stack wilds on every reel since they have a high variance. Also, there are slots that stack wilds that exclusively appear in the free spin bonus feature. When stack wilds are combined with multipliers, a player's potential for a big win significantly increases. If you are lucky enough to get a big win with stacked wilds, you can hit a jackpot that can set you for life.
Is Playing Stacked Wilds Easy?
Stacked wilds are easy to play and they work the same way expanding wilds do. However, the only difference is that with stacked wilds, you have a single wild symbol that falls on a reel and then expands to fill the spaces around it. A stacked wild that falls can either fill in an entire reel or it can expand to fill a section of the reel that is at the top or bottom. Every slot game has different rules. These rules are attached to different wild symbols. At every game, there is a paytable that players can refer to get these rules. To access these rules, all you have to do is look for a button that indicates paytable, menu, info or similar.
Why You Should Try Out Stacked Wilds
Stacked wilds offer a chance of big wins and unlike other normal wilds, these stacked wilds are generally more volatile. If it is your first time to try out a stacked wild, try it out on a free play game to get a hang of it first.
How You Benefit From Playing Stacked Wilds
Bigger wins: Stacked wilds offer players a chance to enjoy higher payouts. The majority of leading video slots have wild symbols that act as multipliers. They have winning combinations that include wilds that can be doubled or even tripled. If wilds appear on multiple reels, greater rewards can be achieved.
How To Choose Stacked Wild Slots
If you are playing a stacked wild slot game for the first time, make sure that you pay attention to slot game where wilds can appear. Not all games have wilds that are in order and some games can have wilds that are positioned anywhere on the reels. Other slot games can limit the reels that will contain wilds. The main aim of playing stacked wilds is to stack as many wilds as you can possibly do. Look for a game that will allow you to find as many stacked wilds as you can especially if you are a real money player.
Bottom Line
Most online casinos offer a wide array of slot games, most of them which have innovative features. Stacked wilds are increasingly becoming popular because they offer players a chance to collect more payouts and the features included in the game enhance game play.